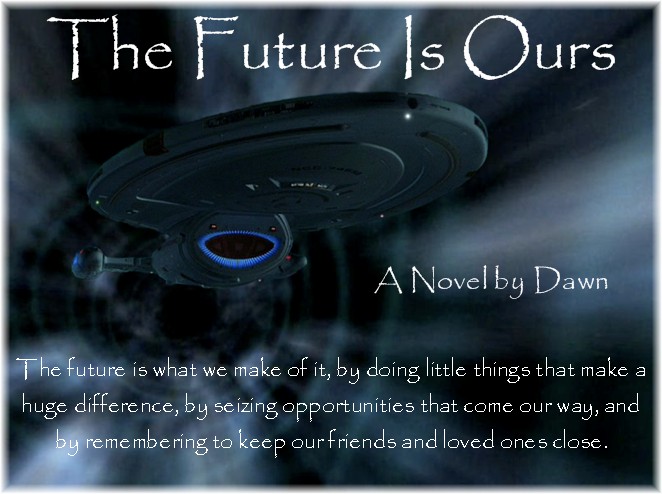 This story is as long as three novels (1,438 pages and 475,385 words), and it took just over two years to write it. I started with Endgame and added/extended some scenes that complicate certain issues for all parties involved. This story explores how Kathryn Janeway and Chakotay's relationship evolves as they leave Voyager behind and contend with the pressures of a changing Federation.

Many, Many Thanks


To those who helped inspire me with ideas and encourage me while writing this epic:

Mizvoy - a super proof-reader and plot hole fixer. Also did a great job of helping me tone down the sticky sweetness to a level that does not require an insulin shot.
CoriMariee - who practically read the story as I wrote it, helped me brainstorm, gave me many ideas, pointed out characterization issues, and kept me writing. She also nicknamed me "meanie" for what I made Janeway go through. Poor Kathryn.
MarchWishes/Janeway25/Tina - who made the awesome video that accompanies the fic. She also started chatting with me as I wrote the latter part of it, and encouraged me along with some great ideas and feedback.
Celia - for hosting the story on her site so I don't exceed my bandwith.
My Cheering Section - Celia, Elem, Splv, CF, Audabee, Kate, Seattlebecc, Gates, and others, who have been begging for this since the day I started, and who I've bounced many ideas off of.
Camryn - who created the beautiful fiddled pictures that I keep on my desktop because the emotions so clearly expressed on Chakotay's and Kathryn's faces spark my imagination every day.
Cheshire - who helped me one evening brainstorm the major plot line.
VAMBIES - who helped me come up with the interview questions in Chapter 3.
BookJunkee - who inspired Chapter 8 by requesting a spring fling story about Janeway from the viewpoint of another person.
Dear Hubby - Can't forget him! He's been very patient while I pursue my little hobby.


Disclaimer: Voyager and its characters belong to Paramount.

Click to play the TFIO Video, created by Tina (MarchWishes/KathrynJaneway 25).
Due to it's size, it takes a few minutes to buffer, but I promise that it's worth the wait. If your internet speed is slow or if this doesn't work with your browser, see the video on YouTube.
The song is "Never Say Never" by The Fray, performed by Tyler Ward.
The video is a trailer to the novel and provides an illustration of the backstory.

I'd like to invite anyone who is interested in creating fiddle pictures or drawings tied to this story to send it to me and I'll post it on a special page just for artwork.

Chapter Index
Each chapter is approximately 10,000-15,000 words, or 30-45 pages. Some are more, some are less. MA Chapters have an alternate M version.
Send a message to Dawn

Back to Dawn's General Story Index